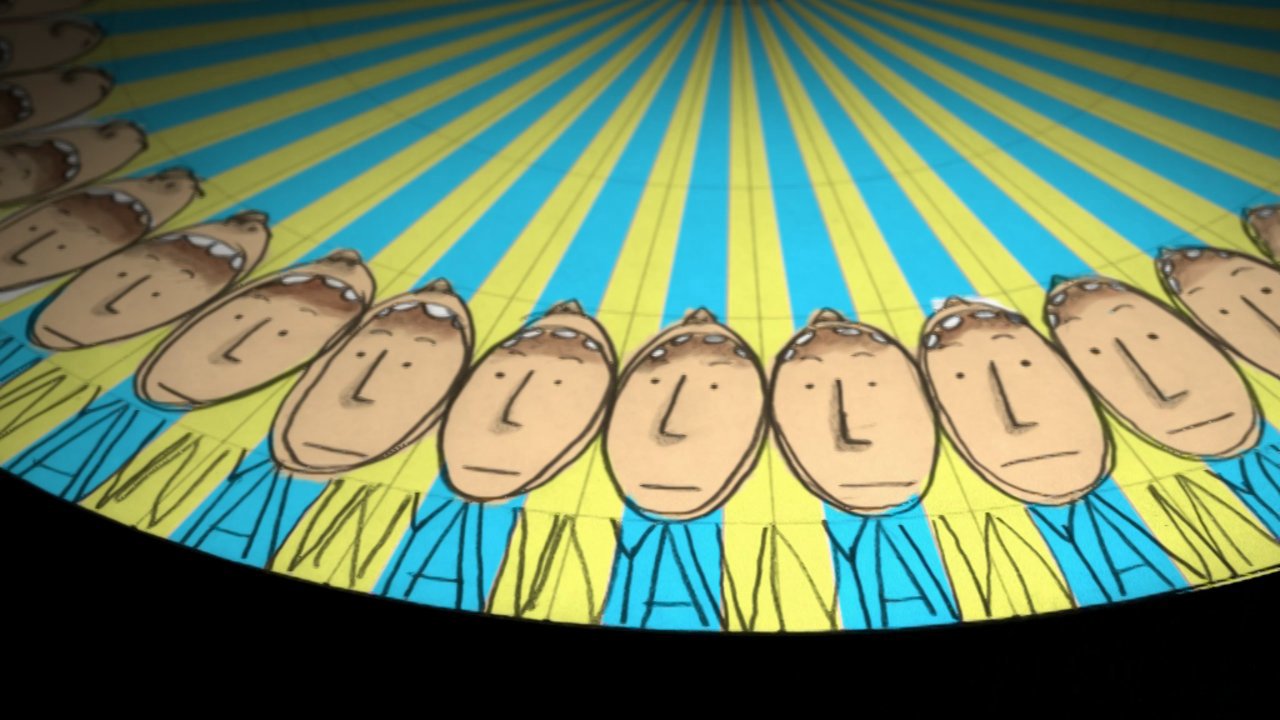 The UK's Crafts Council recently decided to host an exhibition of films focused on craftspeople whose creations are, in part, expressed through or integrated with film itself.1 For their submission, freelance director Jim Le Fevre worked with Roop Johnstone and Alice Hartford of RAMP Ceramics to make a bowl with designs that spring into life when spun on a potters wheel. At first I thought this was a cleverly-conceived but essentially simple effect — a close cousin to the flip-book animations that children often create in the corners of their text books — but I was only half-right. It turns out that animating the design actually requires a careful synchronization of the bowl's rotation speed and the camera's shutter speed, a video analogue for the venerable technology of the zoetrope.2 This synchronization takes what to the unaided eye would be a blur of motion and freezes it into separate images flashing by at 24 frames per second. In other words, it turns the bowl into an animated movie.
What allows the filmmaker Jim Le Fevre to fall under this exhibition's criterion of "makers" filming their own work is the fact that he's also a craftsman in this very art — or rather, in a distinct sub-genre that he has largely pioneered. Based on the same principles as the animated bowl, a "phonotrope" uses audio turntables to take advantage of the same optical effect while expanding the range of artistic options: while a spinning bowl offers two-dimensional surface areas on its exterior and interior, a disc on a turntable can be used either as a simple 2D animated surface or as a ground for more complex three-dimensional creations.
Apart from giving a noble new role to turntables, there are undoubtedly a number of art theoretical and art historical observations that one could make about this invention. But it's so visceral and just plain fun to watch that I thought it better to illustrate by example, and to include the work of other artists who have joined in the exploration.
First, a two-dimensional approach: Le Fevre's disc of drawn faces caught in the act of some rather extreme yawning.
Sean Liew's mushrooms sprout into the third dimension…
Wil Colquhoun's "Matches and Pins" play with the simplest elements…
And now that you're hooked, here's a video of Le Fevre talking about this craft to the 2009 FlatPack Festival in Birmingham. The video's sound quality varies — but it's fascinating and funny, and includes both 2D and 3D examples which are surprising and increasingly wonderful. Le Fevre walks through the range of possibilities he's discovered so far, all of which exist in tension with the format's "exciting limitations". From constraint, creativity.
For more examples and background, visit http://phonotropia.blogspot.co.uk/ And if any readers decide to try this at home, we'd be thrilled to see a video of the result.
Real to Reel: Film as Material in Making runs 3 May to 13 July 2014 in Sleaford (about 160 km north of London), at the National Centre for Craft and Design [↩]
Here's a demo of a classic zoetrope: https://www.youtube.com/watch?v=-3yarT_h2ws [↩]