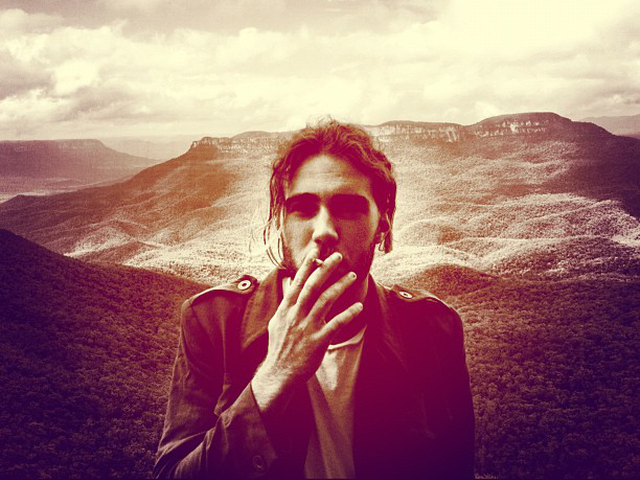 When charmingly unkempt Australian singer-songwriter Matt Corby stared out into the crowd of thousands singing along to the lyrics of his latest song "Resolution", he felt compelled to take a step back from the microphone and let the notes wash over him.
"To stand up there in front of a crowd of people who came to see me play and hear them sing that chorus back at me was such a beautiful moment. We just stopped playing," said Corby in a recent News.com.au interview. He was back in Australia performing at the annual Splendour in the Grass festival – a festival where only three or four years earlier he had stood in the crowd, singing the lyrics to his favourite songs.
Growing up in one of Sydney's beachfront suburbs, from the age of six Corby immersed himself in music at school and in church. At 16, Corby auditioned for the 2007 season of Australian Idol. Clad in leather, guitar in hand, he introduced himself with an enthusiastic rendition of Stevie Wonder's "Superstition". The judges voted him onto the show with equal enthusiasm.
In 2009, Corby independently released his first EP, entitled "Song for…". The collection of acoustic ballads seamlessly married folk with the gentle hums of gospel singers in songs like "Letters" and "Take All of Me". His hauntingly beautiful vocal range and his ability to transition flawlessly from raspy growls to silky falsettos have been compared to the likes of Canada's Patrick Watson and the late Jeff Buckley. After the EP's release, the young artist left Australia determined to test his talent on the fresh ears of London's music scene, and soon grabbed the attention of Mumford and Sons keyboardist and producer, Ben Lovett.
Lovett signed Corby to his indie label, Communion, through which the singer released his second and third EPs: "My False" and "Transition to Colour". The albums offered listeners a different sound and range, and featured piano as lead on songs like "Made of Stone". During this period, Corby started to gather a following by touring intimate London venues and performing at South by Southwest.
After spending months crafting his fourth EP "Into the Flame", Corby produced a lyrically raw and compelling mix by introducing undertones of blues to his signature indie-folk sound. Released in September 2011, the first track "Brother" — said to be born from a quarrel with a friend — propelled him into the spotlight and won him the ARIA award for Song of the Year. Within months, "Into the Flame" reached 5x platinum status, spawned a national tour, and positioned Corby as the next big thing.
Corby's most recent single, "Resolution", came out in May and has since climbed to number five in the ARIA Charts, as well as being awarded Song of the Year. To the extent that "Resolution" offers a taste of the singer's much-anticipated debut full-length album (release date not yet set), we're in for something good.

Visit http://mattcorby.com.au/