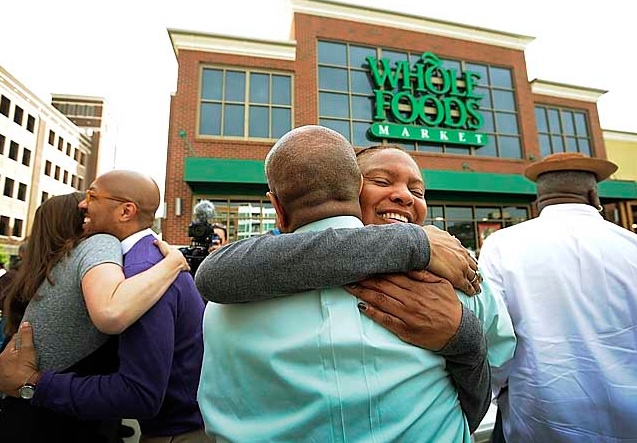 All images Detroit Free Press
In the middle of the twentieth century, Detroit was a rising metropolis. The capital of American industry, and home to the "Big Three" automakers (General Motors, Chrysler, and Ford), the city could also claim cultural cachet as the place where Motown Records established its headquarters in 1960. But if you have read anything about Detroit over the past twenty years, you will have encountered a story of decline, not ascent. And if you have read anything about Detroit in the past few months, there is a good chance it was about the city's bankruptcy troubles. Detroit has become the crisis center of the global economy, with city officials planning to cut hundreds of millions of dollars from its budget by eliminating the Department of Human Services, disregarding union contracts, abolishing thousands of city jobs, and making severe cuts to firefighters, EMS, parks, public transportation, and many other services, such as street lighting.
The severity of these cuts results from a consent agreement that the city signed with the state to avoid the appointment of an emergency manager (though an emergency manager was appointed in March of this year anyway), and their effect on residents has been harsh. For instance, the decision to ration street lighting and provide only basic services to regions of the city considered "viable" means that whole parts of Detroit—the parts deemed distressed—will be ignored, and residents forced out. Entire sections of the city will be shut down; the prospect is bleak.
Detroit's population has plummeted since the city's heyday in the 1950s, and a real problem faced by those who remain centers on the basic human need of how and where to get food. Not fancy or organic or specialty food—just regular, moderately healthy food: fresh fruit and vegetables, safe meat, and quality bread and dry goods. The widespread seriousness of this problem emerged in the late 1990s, by which time nearly every major grocery store chain in Detroit had shut its doors, a reality that transformed much of the city into a food desert. And since only about one-fifth of Detroiters have access to a car that might carry them to a suburban grocery, many of the city's residents have been left food insecure for more than a decade now. Citizens without cars, or without the time it takes to travel to more well-off suburbs on an inadequate public transportation system, often find themselves stuck buying food at gas stations, dollar stores, and small markets where the price markup is high. In this landscape, affordable food that is not boxed, canned, frozen, or highly processed—and that is not nutrient-poor with excessive sugar, salt, and fat—can be difficult to find.
The story of Detroit's decline, however, is not without moments of resistance, particularly when it comes to creating community spaces that address, in very practical ways, the city's food shortages. The city has a diverse and vibrant urban farming movement which has empowered residents to produce affordable, high-quality food for their communities. An extraordinary service, for sure—but it would be a mistake to understand the hundreds of gardens and farms in Detroit solely in terms of their use-value, for they also stand as representations of a different yet possible world. Local farms such as Earthworks, the first certified organic urban garden in Detroit; or D-Town Farm, a project of the Detroit Black Community Food Security Network; or Brother Nature Produce, located in one of Detroit's oldest neighborhoods; or Feedom Freedom Growers, a garden initially set up by its founders to improve community spirit—farms such as these, and many more could be named, provide a genuine service to Detroit residents by making fresh food available, while also sharing a commitment to create a food system that operates outside traditional production chains, and that is ecologically sustainable, affordable, participatory, and nourishing. In doing so, they also hold in common a refusal to conform to a set of prescribed codes that dictate how the city's landscape is organized and its communities formed.
The success of Detroit's community-based non-profit urban farming movement has caught the attention of local Detroit residents and urban farmers across the U.S., as well as of developers seeking to transform this self-consciously non-capitalist movement into a profitable venture. As of now nothing substantial has come of these attempts, but in the meantime a different sort of food landmark has been erected in the heart of the city: a 21,000 square-foot Whole Foods Market. After securing $4.2 million in community funds and local and state tax incentives, Whole Foods announced in 2011 that it was coming to Detroit; the company then spent more than two years working with local community members to develop a store that made sense for this city. Some of the strategies used by Whole Foods to improve its perceived value to locals include showing prices per item rather than per pound, and offering lower prices on certain products in order to broaden its customer base. The community partnership seems to have paid off: according to Whole Foods co-CEO Walter Robb, the store has wildly exceeded expectations, with sales doubling corporate projections after only a few months in operation.
The opening of a grocery store might not seem like a particularly newsworthy event, but apparently, when that grocery store is Whole Foods, and it opens in a severely economically depressed and largely African-American city like Detroit, it is national news in the United States. The Detroit Free Press, the Wall Street Journal, Salon, Grist.org, Bloomberg, Marketplace, and a host of other media outlets covered the opening. And there was a lot to cover: the grand opening featured speeches by Mayor David Bing and Senator Debbie Stabenow; former Detroit Pistons forward John Salley, whose vegan wine the store stocks, attended (and cried at) the opening; a marching band played; community organizations set up outreach booths; and many hundreds of people lined up to be the first to enter the store. The media covered the event with a mix of enthusiasm, surprise, and awe at Whole Foods' inner city gamble. A slew of photographs also accompanied all this reporting, with much of it focused on three elements: food (and more food)—abundant, beautiful, and colorful; consumers—jubilant, yet thoughtful and discriminating in their choices; and that now familiar green and white "Whole Foods Market" sign, the ultimate beacon of gentrification.
Detroit has become a city that seems to ask to be photographed. It is a geographically immense space, 139 acres (bigger than San Francisco, Manhattan, and Boston combined), with a significant amount of that space now standing vacant. In a sense, these open spaces are a kind of remainder, capitalism's detritus of moldering factories, foreclosed homes, and abandoned lots. It all so easily becomes a picturesque wasteland that who can blame a photographer for wanting to capture its sad beauty? Romanticized failure, visual evidence of the collapse of the American Dream; it is hard to resist. But such pictures too often neglect the more than 700,000 people who still reside within Detroit's borders. And so the images thus far produced of the Detroit Whole Foods, pictures of at least some kind of economic development (and thus, of hope), seem in their corporate optimism and near religiosity to respond to this omission.
Consider two photographs taken on the occasion of the store's opening, both by Daniel Mears for the Detroit Free Press. In the first (top of page), figures—smiling, hugging, ebullient—fill the foreground while behind them rises the newly constructed market, like a temple, identified not by a cross or a star, but by the large WHOLE FOODS MARKET sign that hangs on the building's windows just above the central figures' heads. With very few other markers of the city visible, the photograph presents Whole Foods as an oasis in an otherwise empty landscape; an oasis worthy of unadulterated celebration. The second shot (below) reveals the store's interior: an open door allows a crowd of shoppers to enter the space and join the staff members inside who wait for them with excitement. Together, shoppers and workers then raise their hands in praise—that is, in gratitude—for being allowed in, for being granted access to food, for being recognized. Perhaps it is this, this being seen-ness, even if it is just as a consumer, that brings salvation.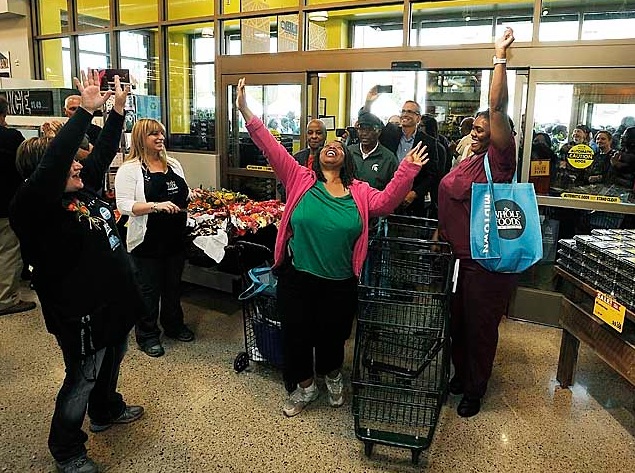 There are other kinds of remarkable pictures from the opening event. One such type focuses not so much on celebration, but on work. Not work in the traditional sense, not the work of manufacturing cars for which Detroit used to be known, and not the work or do-it-yourself attitude of the city's urban farmer; rather, the work depicted here is the work of shopping. In one image (below), taken by Diane Weiss, again for the Detroit Free Press, a woman carefully shops for bananas. With pen and paper in one hand, and eyes focused on the food scale, the picking out and weighing of these bananas is presented here as a job that requires concentration and care. Behind the woman, other shoppers seem to navigate the same workscape: rows and rows of colorful items rest on shelves as new consumers read packages, weigh items, and contemplate price points. Far from the types of pictures taken by photojournalist Tim Hetherington for Howie Kahn's Destroying Detroit project, which documented the process of vacant homes being systematically demolished by the city, these new images of Detroit's Whole Foods seek to present the city not as a space destroyed, but as one abundant.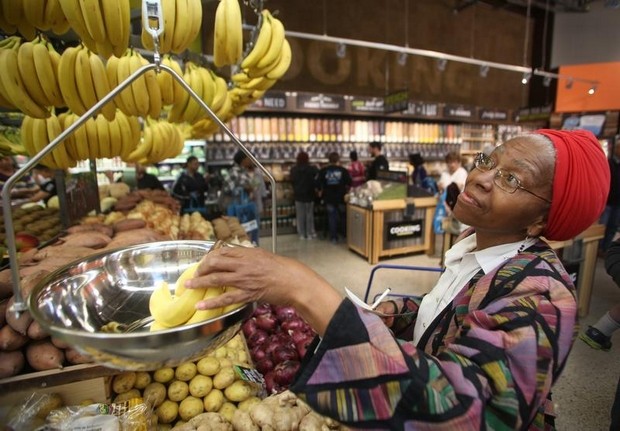 Poet, storyteller, and Detroit native Jessica Care Moore declares in a performance captured in Mark Dworkin and Melissa Young's documentary We Are Not Ghosts, "Somebody's got to tell them… We are not ghosts… that we are in this city. We are not ghosts and we are alive." The photographs of the Detroit Whole Foods want very much to claim a presence for their subjects, to shout 'we are here,' to show us: Detroit is full of people, not ghosts. In this regard, the pictures are quite moving, and even more, they seem to demand that viewers ask themselves: how it is that in one of the wealthiest nations in world, the opening of a grocery store would bring such fanfare and, elicit such profound emotion.
And yet, looking at these vivid pictures, full of excitement and community, as well as product, I wonder if something has been sacrificed in these images that brought Detroiters back to the world of the living. In celebrating the Detroit Whole Foods as the company's first inner city store, the grand-opening photographs seem to position those pictured not so much as citizens, or actors moving in and around their city with freedom and agency, but as economic beings who rejoice in the right to consume. Indeed, the freedom to consume is a kind of freedom, but it is also a long way off from delivering fundamental economic change to Detroit's city structure or even visual change to the city's urban prairies.