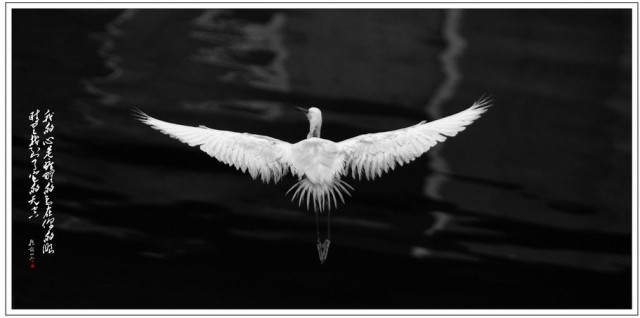 A "photoink" image by Leo Wang, printed on rice paper
"Thoughts pass in my mind like flocks of ducks in the sky. I hear the voice of their wings."
– Rabindranath Tagore
To Hong Kong-based artist Leo Wang, photographs are simply paintings rendered through a different medium. Along with some artistic colleagues, Wang has co-founded an approach to photography that he terms both "diphoture" (a portmanteau word formed from "digital", "photo", and "picture") and "movies" — a label which refers not to filmed entertainment but to the process of taking a photograph with painterly, ink-like aspects, enhancing these aspects with the help of editing software, and then printing the result onto a physical medium like gelatin silver, canvas, rice paper, or porcelain. Without the physical medium, he has written, it is not "a complete work." Wang often transcribes poetry, using traditional calligraphy, onto the final piece.
Wang was a painter before turning to photography ten years ago, and he has worked as a successful fashion designer and editor. More of his work can be viewed (and purchased) on Saatchi Online here.