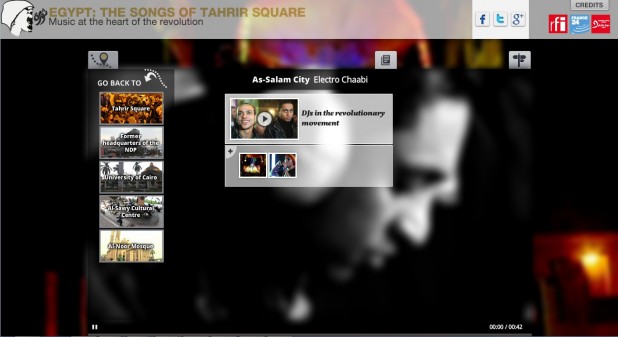 Although we last touched base with the 2011 Egyptian revolution only three months ago (see "A revolutionary/counter-revolutionary phrase book", January 24), French broadcast services RFI and France 24 recently unveiled a remarkable web documentary on the music and musicians of the Cairo protests, and we felt compelled to let you know about it.
Written and directed by Hussein Emara and Priscille Lafitte, the documentary site is organized by five locations: the now-internationally-famous Tahrir Square, the former headquarters of Mubarak's former National Democratic Party, the University of Cairo, the Al-Sawy cultural centre, the Al-Noor mosque, and As-Salam City. Each of these hosted a musical scene that was unique — the Al-Sawy put on regular concerts by politically-charged alternative bands, while the Cairo suburb of As-Salam was home to the revolutionary DJs of "electro chaabi" (a mix of rap, electronica, and traditional chaabi rhythms) — but all played a role in the uprising. Well-researched and well-designed, the site offers interviews, documentary segments, information overlays, and a location map.
Go here to view the web documentary; a longer and more detailed review by Torie Rose DeGhett can be read here. You may also enjoy the following video ("Bread, Freedom") by Ramy Essam, a musician featured in the doc who participated extensively in protests both during and after the revolution.