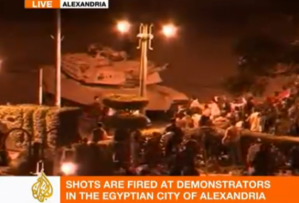 In part driving, and in part driven by, the still unfolding and highly contested "Arab Spring" is the equally remarkable transformation of Arab media culture, as many television broadcasters and newspapers in the region attempt to pull away from what has been seen as their traditional roles as de facto public relations agencies for their nations' governments.
The alternative that they have largely been shifting to, however, is not the hyper-cautious, take-no-position neutralism that many Western journalists have been trained to produce (and which too often leads to a "he said, she said" style of reporting that frustrates so many readers–and which is easily manipulated by the subjects of the piece), but rather to a confident, even forceful new point of view. In fact, in a survey of six hundred Arab journalists that Lawrence Pintak conducted in 2008, a full 75% indicated that "their mission was driving political and social change." Pintak, who is Founding Dean of The Edward R. Murrow College of Communication at Washington State University and author of the recent book The New Arab Journalist: Mission and Identity in a Time of Turmoil, has written a fascinating and nuanced essay on this topic in the latest issue of the Columbia Journalism Review. But as he notes here, the story is not a simple one:
The precise role of Arab media in this era of transition is at the heart of the bitter rivalry between Al Jazeera and Al Arabiya, the other main pan-Arab news channel. Al Arabiya is owned by Saudi interests close to the royal family, and argues that its news culture is more objective. Journalism "is not about supporting the revolution," says Nabil Khatib, Al Arabiya's executive editor. "It's not about trying to act as a political party who's trying to be activist rather than to offer information." Al Jazeera, he says, is "trying to be part of the conflict."
To some extent, this war of words reflects the political forces at work on the two channels, which are the public faces of the battle for regional influence between Qatar and Saudi Arabia. The Emir of Qatar, fifty-nine-year-old Sheikh Hamad bin Khalifa al Thani, launched Al Jazeera one year after he deposed his father in a bloodless coup. Sheikh Hamad didn't start Al Jazeera to gain a membership at the National Press Club. He did it to make himself a player in the region, the same reason that he convinced Washington to shift the regional headquarters of the US military's Central Command from Saudi Arabia to Qatar in 2002. It was from there, just up the road from Al Jazeera's headquarters, that the invasion of Iraq was directed.
Read the rest here.