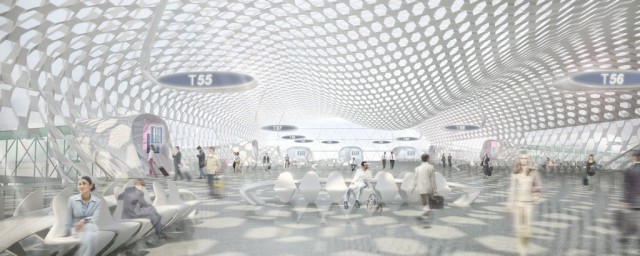 Like Chicago after the Great Fire of 1871, China's rapid economic development and associated cultural aspirations have enabled it to serve as a kind of blank slate for some of the most vibrant and radical architecture being built in the world today.
A superb example of this is the planned Terminal 3 expansion of Shenzhen's Bao'an airport, the design commission for which was won by the Italian firm of Massimiliano Fuksas in 2008. Though it will no doubt be remarkable to observe from the outside — looking somewhat like an immense white coral reef — its interior appearance promises to be breath-takingly futuristic. Consisting of gently undulating walls and ceiling without clear division between them, in its organic forms it will remind some of Eero Saarinen's TWA terminal at John F. Kennedy airport in New York, but its twin "skins" of honeycombed glass will give it an even more dramatic impact. Write the architects:
The skin of the airport, consisting of an inner skin and an outer skin with the structural elements in between is enveloping the passenger by surrounding him with the airy structure on his way through the airport, defying classic building concepts. The structure is carefully designed to allow for different light experiences while being in constant communication with the outside.

At the core of this concept is the honeycomb, a panel as the unique physical element of the skin. Its design optimises the performance of materials selected on the basis of local availability, functionality, application of local skills, and low cost procurement. Each panel varies in glass size and in angle of the opening, carefully managing to produce the different light experiences needed for the various functions inside the airport.
See more pictures here.