Ian Garrick Mason: I'd like to thank Matthew Gallaway for inaugurating a semi-regular feature on SCOPE's blog. We call it "Recent best", and it will be comprised simply of personal recommendations, by a person who ought to know, on the two best books or films (or buildings, or albums, or paintings) that he or she has come across recently and that have been released in the past twelve months. We hope you enjoy it.
Matthew Gallaway recommends: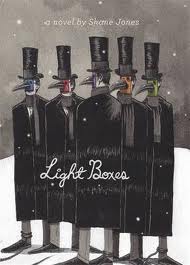 Light Boxes, by Shane Jones: Light Boxes is a a short, amazingly textured novel in the form of a post-modern fairy tale or fable about a small town whose inhabitants decide to wage war on February. In addition to a period of time — namely the month so many of us know and dread — February in this book is cold and sad and indefinite in duration, and may or may not also be a god or a misunderstood man, an outcast who terrorizes the townspeople with snow and ice (and moss!), leading to the end of flight (paper airplanes, balloons, and kites) and more sinisterly to the kidnapping and murder of children. The narrative is rich with themes and motifs, all presented without easy resolution, including love and the end of love (and life and the end of life); the interplay between sadness and creation; the costs and benefits religious dogma and war (including technology and violence); the sense of knowing someone intimately and not knowing them at all. To read Light Boxes is like having a dream (and one of the miracles of this book is that it feels like the reader's dream, not Jones' or even one of the character's) in which your unconscious communicates with you via an array of signs and symbols (many surreal), but the exact meaning of which the reader (i.e., the dreamer) must work to interpret. As with most dreams, I felt like there were no right or wrong answers to these questions, but that I ended up with a strong intuition about life, and the many directions it may or may not take.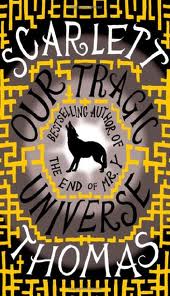 Our Tragic Universe, by Scarlett Thomas: Our Tragic Universe is about a writer in her late thirties (or thereabouts) who to this point in her career — she's written a handful of genre titles under a pseudonym — is basically scraping by with a not-very-appealing boyfriend (unemployed, not at all romantic, very little in common, etc.) with whom she lives in a small town on the coast of Great Britain. Although she's under contract to write a Serious Literary Novel, she's had a very difficult time coming up with a plot (or deciding if the book should even have a plot) and so has written hundreds of thousands of words and deleted all but the good parts, which (in one of many hilarious scenes in the book) leaves her with a total of 43. The narrator struggles to reconcile her own beliefs with the fundamental nature of time and space, and to decide what to do with her life, which (in terms of her partner and career) is not exactly where she would like it to be. In different hands, these themes could be quite unwieldy, but Thomas has such a breezy, fun voice that I felt like I was spending an afternoon with an old friend, drinking tea, trading gossip and speculating about the meaning of life (or lack thereof). As easily as she discusses science, she also dips into and out of all sorts of different 'genre' elements like horror and magic without ever really disclosing 'the truth' about these elements and what may or may not have 'actually happened' in the narrative. Thomas has such an appealingly intelligent and unpretentious style that I often found myself laughing and nodding at the foibles of being not only a writer, but also a person of a certain age who's looking for meaning where it's not always apparent in the world around us.
Matthew Gallaway is a critic and novelist. His upcoming book, The Metropolis Case, can be pre-ordered here.