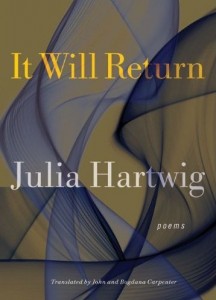 Cynthia Haven, on her enjoyable literary blog The Book Haven, recounts a brief telephone encounter with Julia Hartwig, a poet of prominence in her native Poland still too little known in the English-speaking world. It Will Return, Hartwig's newest book of translated poetry, was published by Northwestern University Press last year (available here); in addition to her poetry, Hartwig is also an essayist, translator, and author of children's books.
The short poem below comes from Hartwig's first book of translated work, In Praise of the Unfinished: Selected Poems (translated by John and Bogdana Carpenter), much of which can be previewed on Google Books here (and of course, purchased here). It catches the flavour of Hartwig's relationship with history and with the complex nature of artistic greatness, themes she elaborates more fully in It Will Return.
A Manuscript

Through the glass of a display case
where Beethoven was born you can see a manuscript
with dozens of scrawls, corrections, and crossed-out words.
It is a letter to a powerful prince imploring him
to accept a symphony he has just composed.

No other composition by this genius
bears as many marks of exertion as this letter
to a ruler of a tiny state unknown today.